Longest Iftar party in Asia hosted in Srinagar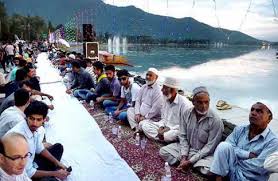 Last month, Alexandria in Egypt broke the Guinness Book of World Records for the longest Iftar spread by hosting 7,000 people.
This month, India is on the record map for organising Asia's largest Iftar in Kashmir – along the banks of the scenic Dal Lake.
More than 3,500 people formed a 5,000-feet-long chain over 'dastarkhans' or dinning cloth at the scenic Dal Lake in Srinagar to break their fast. They were treated to delicacies of biryani, juice, dates and fruits – all free of charge.
"I think it is really nice idea to make such a record and being in Kashmir it is very important to make records also. It is very nice to give orphans Iftar parties at all," said Nadira, a student.
The party was organised by an event management company called 'Loud Beetle' in cooperation with civil society groups and business houses of Kashmir. Sharjah city in UAE has held the record for organizing Asia's longest Iftar over 1.3 kilometre stretch, but with spread of 1.6 kilometres Kashmir's party has surpassed that.
"Apart from being Asia's largest Iftar as of now, we are trying to show that Islam is a religion known for humanity and unity," said Ahmar Khan, one of the organisers.
For centuries, Kashmir has a rich tradition of organising Iftar for the poor people, but a public event like this is a rarity, clearly the message is to celebrate the fast breaking ritual during the Holy month of Ramadan together as a community. -NDTV