Makkah Clock Tower to open for tourists after Haj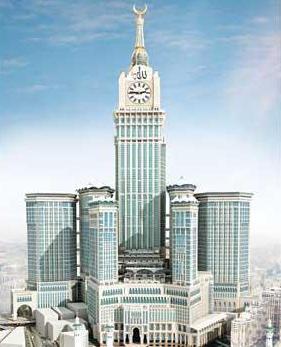 The Makkah Clock Tower, the second tallest tower in the world, is to open for tourists after Haj 2014, according to officials.
Tourists will have to buy tickets to visit the tower top.
The gigantic Makkah Clock project was constructed on top of Tower No. 5 of the King Abdul Aziz Endowment Project, which consists of seven towers. The tower includes hotels on which the clock is situated.
Overlooking the Grand Mosque, the Makkah Clock Tower (a.k.a. Abraj Al Bait Towers) is 601 meters high with 76 stories and 858 suites.
"A large number of visitors of different nationalities will be allowed to visit the tower to get a close look at the interior of the Clock Tower," an official told Arab News.
"There will be tickets to visit the tower. This procedure will be announced after this year's Haj season," said the official.
A number of hotels inside the tower attracted many visitors who were keen to enjoy the view of the Grand Mosque, especially during Ramadan.
"The Clock Tower revived our business during the last three years," said Abbas Subhi, marketing manager at a hotel located in the Clock Tower.
"Most of visitors come only to stay in our roof to enjoy the panoramic view of the Grand Mosque. The Clock Tower supports tourism," he told Arab News.
Custodian of the Two Holy Mosques King Abdullah had ordered the largest clock tower in the world to be built in Makkah.
The clock is placed at a height of 380 meters and can be seen from all sides.
The name of Allah has been inscribed on each of the four clock faces. Two of the clock faces, including the inscription, are 80 meters high and 65 meters wide, and the dial diameter is 39 meters.
The King Abdul Aziz Endowment Project, which overlooks the Holy Mosque, is one of the world's largest construction projects.
Makkah Clock Tower is just a meter taller than Canton Tower in Guangzhou, China, which held the distinction as the world's tallest from 2010 until it was dislodged by 634 meters tall Tokyo Skytree in Japan.
Tokyo Skytree is the world's second tallest structure, surpassed only by the Burj Khalifa in Dubai (launched in 2010), which stands at 829.8 meters.
According to Infoplease.com, a tower differs from a building in that the latter has floors, and is designed for residential, business, or manufacturing use. Towers are generally telecommunications towers, which may have observation decks or restaurants, but do not have floors all the way up.