Makkah governor hands over Kiswa to Al-Shaibi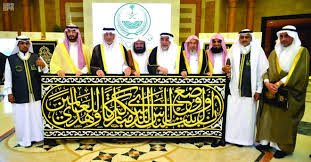 On behalf of the King Salman, Makkah Gov. Prince Khaled Al-Faisal handed over the new Kaaba Kiswa (black cloth) to the senior caretaker of Kaaba Saleh bin Zain Al-Abidin Al-Shaibi.
The Kiswa consists of 5 pieces; four of them cover the four sides of Kaaba, while the fifth one is hung as a curtain above the door of Kaaba.
Preparing the Kiswa takes several months and needs large amounts of precious metals and pure silk. Around 170 craftsmen are involved in the process which passes through various stages until the Kiswa is ready. The Kiswa is usually placed on the Kaaba on the day of Arafat.
Also present at the ceremony were the president of the General Presidency for the Affairs of the Grand Mosque and the Prophet's Mosque, Dr. Abdul Rahman Al-Sudais, his deputy Dr. Mohammed Al-Khuzaim, and the director general of the kiswa factory, Mohammed Bajodah.