Makkah governor thanks everyone who helped make Hajj 2018 a success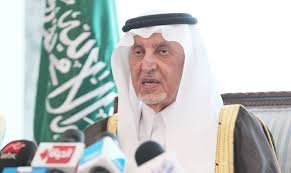 Makkah Gov. Prince Khaled Al-Faisal thanked King Salman, Crown Prince Mohammed bin Salman and Interior Minister Prince Abdul Aziz bin Saud bin Naif for supervising this year's Hajj season.
During the concluding press conference for this year's Hajj, which was held in Mina on Thursday, Prince Khaled also thanked the media who covered the season, as well as those who contributed to serving the pilgrims.
He said that the number of workers providing services to the pilgrims exceeded 250,000 people.
Prince Khaled said that the holy sites' train transported 360,000 pilgrims, while 18,000 buses transported 1,800,000 pilgrims.
He said that the health sector deployed 32,000 health practitioners. As many as 25 hospitals and 135 health centers with a capacity of 5,000 beds were available in Makkah and the holy sites to serve pilgrims.
He also said that the electric load capacity reached 17,791MW, while 40,000,000 cubic meters of water were pumped in Makkah and the holy sites. The Ministry of Municipal and Rural Affairs provided its services through 32,000 engineers, supervisors and cleaners.
With regard to women's rights in the Kingdom of Saudi Arabia, Prince Khaled said Islam always urged Muslims to appreciate women and that their rights guaranteed by Islam should be given to them.
He also affirmed that moderation is an Islamic vision emerging from Islam and its teachings and that the leader of moderation in the Kingdom was King Salman.
Regarding some media reports claiming that Saudi Arabia banned Qatari nationals from performing Hajj rituals, Prince Khaled said that Saudi Arabia had announced its willingness to receive pilgrims from any country.
Qatar was called upon to allow its citizens to perform Hajj rituals. The king said that planes could be sent to transport Qatari pilgrims but Qatar prevented its citizens from performing Hajj rituals. However, those who managed to arrive in the Kingdom were welcomed and were now performing Hajj rituals.
He said that the number of Iranian pilgrims in this year's Hajj season reached 86,000.