Malaysian Pop Star Reverts To Islam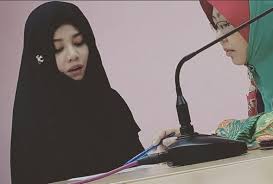 A Malaysian pop singer officially announced her reversion to Islam during a press conference held at the ASTRO All Asia Broadcast Centre on Tuesday, August 25, confirming rumors about embracing Islam after being spotted wearing hijab.
"Yes, I have converted to Islam officially yesterday. It was the happiest day of my life," local singer Stracie Angie Anam, also known as Stacy AF, was quoted by News Straits Times Online.
Rumors about the Akademi Fantasia Season 6 champion's reversion to Islam were circulated on social media after she had appeared in a video taking Shahadah (Islamic declaration of faith) while donning hijab.
Officially embracing Islam at the Johor Baru religious office in Johor, the pop star opted to take a Muslim name, Ummu Syaikhah Stacy binti Anam.
"But I still answer to Stacy," said the singer, who was flanked by her parents, Agnes Kaloos, 57, and Anam Bayar, 53, during the press conference.
The 25-year-old star, who has four albums, hopes that fans wouldn't question her reversion to Islam.
"I was a Christian before and I am proud of it. But this is a matter of the heart, and I have fallen in love with Islam and I am ready to embrace it with all my heart," she said.
"I hope everyone will respect that."
Marriage
The Muslim star, who is in relationship with the Muslim popular actor and TV personality Akim Ahmad, denied that marriage plans were the reason behind her conversion to Islam.
"It's not true. Honestly, Akim and I have no plans to tie the knot yet. If I had converted because I wanted to get married, I would probably have done so only when a wedding date has been set," Anam said.
"Being a Muslim is a huge responsibility. There are a lot of things that I need to learn.
"So my focus now is to learn to become a good Muslimah first, before I can think about marriage," she added.
In a Rakyat Post report, Ahmad expressed frustration after Anam's reversion video and photos in hijab were leaked without her permission.
Taking to Twitter he wrote: "If you feel any respect for someone, please stop sharing and delete the video that was recorded without permission."
"Respect someone's privacy. A person's privacy should not be shared."
Meanwhile, Anam said: "It was supposed to be the happiest day of my life. But after the photo and video were shared, I felt very down and depressed.
"It is not as if I was trying to hide the good news, but the matter is a personal one as some of my family members are still not in the know about my conversion to Islam.
In dismay, Anam added, "Imagine how they felt when they saw the photograph and video?
"It was a sacred moment…a special moment between God and I. So it was frustrating when someone recorded and shared it without my consent."
"As a new Muslim convert, I forgive her."
Although she would have preferred to share the news with everyone gradually, Anam stated that, as a new Muslim, she was willing to forgive the person who leaked the video.
Last month, Tottenham striker Emmanuel Adebayor revealed his reversion to Islam after taking Shahada, (the Islamic creed declaring belief in the oneness of God and the acceptance of Muhammad as God's prophet), in a YouTube video.
Almost a month after announcing his reversion, Adebayor revealed that he had come up with 13 reasons leading to his conversion, saying that it was the similarities between Christianity and Islam that led him to the truth.
Malaysia has a population of nearly 26 million, with Muslims, making up nearly 60 percent.