Mass graves of Muslim Rohingya found in Thai south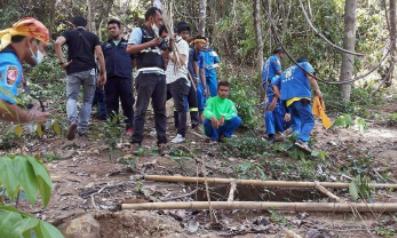 The bodies of 32 Rohingya Muslims thought to have been trafficked into Thailand from Myanmar were discovered buried near a clandestine jungle work camp in the Thai south Friday. A Malaysian is reported to have chanced upon the camp and alerted authorities.
Police Colonel Wirasan Tanpiam of Sadao police station told The Anadolu Agency on Friday that the bodies were discovered by a joint team of police, border patrol police and rescue workers in the camp in Sadao district in Songkhla province, close to the Thai-Malaysian border.
"When the joint team arrived, it found one Rohingya alive but totally exhausted and they have rescued him," he said.
He added that while forensics investigate the cause of death of those found buried, rescue teams are continuing to search the surrounding area for other corpses.
The Bangkok Post reported that "most of the Rohingya seem to have… starved to death or died of disease while awaiting payment of ransom to be smuggled into Malaysia by a trafficking network comprising Thai, Myanmar and Malaysian nationals."
Rohingya — fleeing persecution in Myanmar — are frequently forced to pay smugglers large amounts of money to take them on rickety boats to the Thai coast.
Once there, they frequently fall victim to more gangs who force them to work in hidden jungle camps until their families back home pay ransoms.
Police General Aek Angsananont told the Post that the temporary shelter had a canteen and a bedroom and was located just 300 meters north of Perlis State in Malaysia.
"This location helps traffickers to transport the migrants at any time and it is difficult for officers to arrest them," he added.
Philip Robertson, deputy-director for Asia at Human Rights Watch, told the AA on Friday that he was unsurprised by the discovery of the corpses.
"It was just a matter of time. There has been so much smuggling of Rohingya throughout this region. They are being held in camps and deprived of food for long periods," he said.
"The big issue now is what the Thai authorities will do about it. They have been turning a blind eye about this trafficking for a long time now, but I don't think they can look the other way anymore."
He said he hoped that the find would act as a "wake-up call."
Rohingya are members of a Muslim ethnic group from Western Myanmar.
They started to flee the country in droves after bloody clashes with Buddhist Rakhine, another ethnic group in the region, in June 2012.
The Thai Junta has made the fight against human trafficking a top priority since the country was downgraded in June to the lowest level in a U.S. Trafficking in Persons report.