Mayor meets representatives of the borough's Catholic community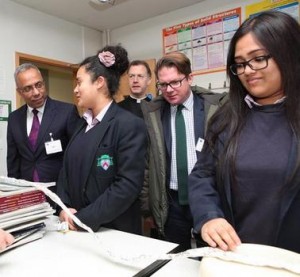 The Mayor of Tower Hamlets praised the positive role of Catholics in the community life of the borough after a special meeting with leading local faith representatives.
Lutfur Rahman was invited to Bishop Challoner Catholic Collegiate School on Tuesday (January 14), where he met with more than 60 active members from the Catholic community.
Mayor Rahman said: "It was an honour to spend so much time with the members of the Catholic community and to meet so many truly inspirational people.
"This event demonstrated once again how important faith continues to be in the modern world, and how in particular it can make a real difference within our multi-faith community."
The attendees included priests and parishioners from all of the Catholic churches in Tower Hamlets, as well as representatives from the borough's seven ethnic chaplaincies and from all nine Catholic primary schools.
The event included speeches from Mayor Rahman as well as Father Michael Dunne, the Dean of Tower Hamlets, and Bishop Challoner headteacher Jackie Johnson.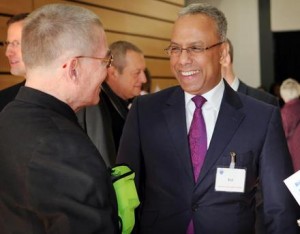 Mayor Rahman met with guests and heard stories from those involved in local institutions, some whose relationship with the Catholic community stretches back more than 50 years.
He was also given a tour of the new school site by students and watched some lessons taking place.
Father Dunne said it was a very worthwhile meeting, adding: "The Mayor was very energised to meet some Catholic people in an agenda which was similar to his own; namely building relationships with the people and also contributing to the borough in issues of diversity.
"There is also a commitment to raise rootedness in the community and social justice issues."