Med migrant crossings to Europe top 100,000 : UN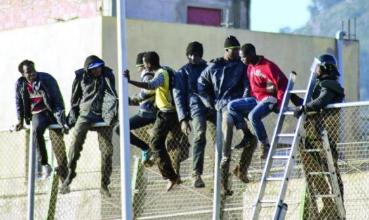 More than 100,000 people have crossed the Mediterranean to Europe so far this year, the United Nations said Tuesday in what it called a "dramatic increase" in arrivals.
Since the beginning of the year, 103,000 refugees and migrants have risked their lives often on flimsy boats to reach Europe, the UN refugee agency said.
A full 54,000 have landed in Italy and 48,000 in Greece, while another 920 have arrived in Spain and 91 in Malta, according to fresh statistics.
They were the lucky ones. Mass drownings in the Mediterranean have claimed nearly 1,800 lives so far this year.
UNHCR "is stepping up its presence in Greece and in southern Italy in response to the dramatic increase in numbers of refugees and migrants who we have been seeing arriving," spokesman Adrian Edwards told journalists in Geneva.
The latest numbers included the nearly 6,000 people, most of them sub-Saharan Africans, plucked to safety from packed fishing boats and rubber dinghies off Libya and brought to Italy over the weekend.
Pregnant women and children were among those rescued, Edwards said.
He voiced particular concern over the exploding number of migrants and refugees reaching Greece, which saw just 34,000 arrivals during the full year of 2014, according to the International Organization for Migration.
There has been a surge in migrants trying to reach Greece's Aegean islands from the Turkish coast recently, mirroring the swell in perilous crossings from north Africa to Italy.
The Greek islands have been receiving an average of 600 people daily, mainly fleeing from conflict-torn Syria, Afghanistan and Iraq, with around half of them landing on the island of Lesvos, Edwards said.
"Record numbers of refugees are continuing to arrive in rubber dinghies and wooden boats on Lesvos, putting huge strain on the island's capacity and resources," he said, warning that reception facilities were vastly overstretched.
UNHCR, he said, was calling for "urgent reinforcement of personnel and resources of all the state services and civil society organizations dealing with the reception of refugees."
"We are also seeking increased support to the affected island communities," he said.
Greek authorities say hundreds of people using small boats and dinghies have arrived over the past day on eastern Aegean islands near the Turkish coast, part of a surge of tens of thousands of migrants landing on Greek shores in recent months.