MFA Zaman Runs With Queen's Baton In Platinum Jubilee
Millions of people held Jubilee parties and street lunches in towns and cities across the UK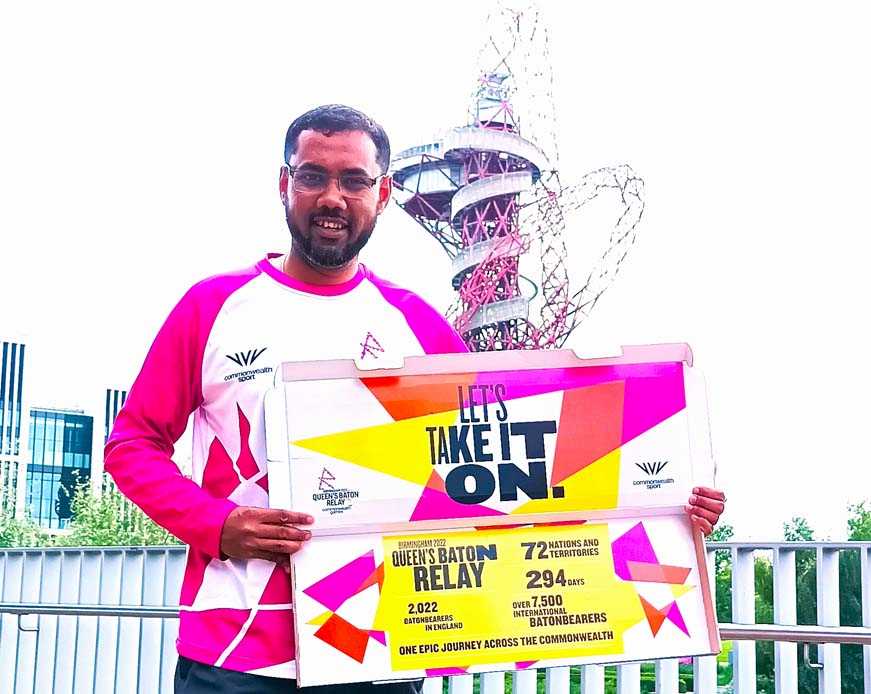 2022, is a year to celebrate the Her Majesty The Queen Elizabeth's platinum jubilee. She became the first British Monarch to celebrate a Platinum Jubilee after 70 years of service. And MFA Zaman is an inspirational person from London who has the honour of representing Her Majesty the Queen Elizabeth in Platinum Jubilee as a Batonbearer.
On 7 October 2021, at a special event at Buckingham Palace, Her Majesty The Queen placed her message to the Commonwealth into the Baton, signifying the start of the 294-day Relay to the 72 nations and territories of the Commonwealth. The Queen's Baton Relay arrived in England on Thursday, 2 June for an incredible four-day visit in London, coinciding with the Platinum Jubilee weekend. It toured Queen Elizabeth Olympic Park, celebrating the sports participation legacy of London Olympic 2012 during its 10th anniversary year. Across last the four days, inspiring individuals from both the community and sporting space has entrusted to carry the Baton at the various events, activities and relay stretches. The Queen has said, When it comes to how to mark 70 years as your Queen, there is no guidebook to follow. It really is a first. But I have been humbled and deeply touched that so many people have taken to the streets to celebrate my Platinum Jubilee. My heart has been with you all. I thank you most sincerely for your good wishes and for the part you have all played in these happy celebrations.
MFA Zaman has a remarkably journeyed in voluntary service. 2012 London Olympic Ambassador, Zaman said, It is a big honour for me to run with Queen's baton. It always encouraged me to do better work for the country. It was never ease for me to come here. But I never give up. This Sunday 5th June was a big day for me while I ran with Queen's baton. It always makes me humble and inspire me to carry on my service to make a change. Also, I am grateful to those who always support and encouraged me.
MFA Zaman was one of the front-line volunteers during Covid19 Pandemic. He joined the NHS Nightingale Hospital in 2020. During lockdown, he served the food to the homeless in the street of London from his charity 'Safe & Save'. And after lockdown he joined with Mayor of London's Ambassador to raise awareness and provide masks at London Underground. To overcome the pandemic and save the lives; Zaman joined in the NHS vacation project. Also, his service has recognised by the NHS England. He was a selector in ICC Cricket World Cup and volunteer in Rugby World Cup 2015. To raise funds for disabled kids, he participated in London Marathon 3 times.
Five former and current Team England athletes will be taking part, including British diver and Olympic gold medallist Matty Lee MBE; British judoka Simone Callender, who became Commonwealth champion in 2002 and is now an active volunteer for British Judo; and basketball star Temitope Fagbenle, homegrown talent and first Brit to win a WNBA Championship. The baton is travelling via land, air and sea, more than 180 communities in England will experience the Queen's Baton on a route spanning 2,500 miles (4,000 kilometres). Kicking off on Thursday 2 June, the Baton will spend five days in London, coinciding with the Queen's Platinum Jubilee Weekend, celebrating The Queen's 70th year as Monarch and Head of the Commonwealth. The confirmation of Batonbearers comes following the public nomination campaign in January 2022, from which approximately 8,000 nominations for were submitted. Batonbearer have been selected from local heroes to inspirational school children, the Batonbearers come from all walks of life, backgrounds and vary in age – with children as young as 12 taking part – and each take on issues that matter most to them. Around 2,022 of people in the UK, have been chosen to carry the baton as it makes its way around British soil with between 40 and 130 people taking part each day. The relay is scheduled to start with a five-day tour of the England capital during the Platinum Jubilee celebrations and will then go on to visit 180 places. The baton will first be on the move during the celebration of the Platinum Jubilee which takes place 2 June to 5 June 2022.
It will then conclude by arriving in Birmingham on 28 July, having completed its 29-day stint in England, for the Opening Ceremony of the Games.