Microsoft recognizes 9 Bangladeshis as MIE experts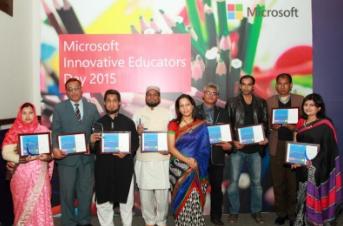 Microsoft Corp, the worldwide leader in software, services, devices and solutions, today recognized nine innovative educators from Bangladesh as a Microsoft Innovative Educator Expert (MIE Expert) for 2015 for their excellence in using technology to help students learn and achieve more -and ultimately succeed in a mobile-first, cloud-first world.
They are Mohammad Mohiul Hoque, Abul Kalam Rashad Ahmed, Mahfuz Ara Sultana, Tasnifa Khanam, Shahnawaz Ali, Leon Asad, Gazi Salahuddin Siddiquee, Mohammad Khurshed Alam and Jotish Chandra Roy.
Sarana Islam, Education Lead, Microsoft Bangladesh and Professor Md. Hamidul Haque, Director, Training, Directorate of Secondary & Higher Education, Ministry of Education, handed over the certificates and crests to the innovative educators at an event organized in a convention center in the capital.
"Being selected as a MIE expert is an amazing honor for me. I look forward to continue finding innovative ways to equip students with the proper tools needed to succeed in the new world of work," said Abul Kalam Rashad Ahmed.
Each year, Microsoft selects MIE Experts to be part of an exclusive global community that is paving the way for their peers to share ideas, try new approaches and learn from each other. This year, Microsoft selected more than 800 thought leaders in innovative learning who possess technology and desire to amplify their reach and voice.
"Microsoft Innovative Educator Experts are inspiring examples of how individuals are using technology to increase students' productivity and develop the skills needed in the workplace," said Anthony Salcito, vice president, Worldwide Education, Microsoft Corp.
"With an innovative use of mobile and cloud technology, these educators are transforming learning environments and delivering more personalized education to students, allowing them to do more and achieve more."
MIE Experts work closely with Microsoft to lead innovation in education, build educator capacity for using technology to improve student learning and advocate and share their experiences in how technology improves teaching and learning. In addition, they mentor other educators and help train them in education technologies and Microsoft products and tools.