Mobile fingerprint units to help nab unauthorized Hajis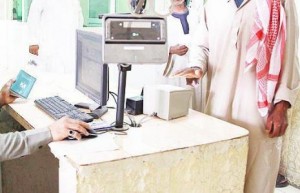 An exclusive division within the Passport Department is being established by the Ministry of Interior to curb infiltration and initiate punitive measures.
Authorities have adopted effective and swift modules to prevent illegal pilgrims from entering Makkah.
Measures include deportation from the Kingdom and being barred from re-entry for 10 years.
The Passport Department has identified a total of eight routes to Makkah that are largely used by pilgrims who do not hold valid permits to perform Haj.
Four mobile biometric recording units have been placed on the field to collect fingerprints and iris images of expatriates attempting to enter Makkah for Haj, said Maj. Gen. Ayad Al-Harbi, director for the Haj pilgrims' division at the Passport Department. He said mobile units in the form of large-sized trucks would be deployed on the outskirts of Makkah to intercept infiltrators, adding that such a process will expedite punitive measures.
Female personnel have been deployed at entry points for the first time to intercept female infiltrators.