Mohamed Fahmy released on bail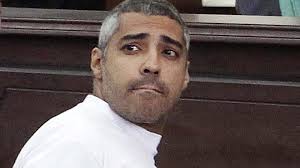 Jailed Al Jazeera journalist Mohamed Fahmy has been released from prison in Egypt on bail pending a retrial.
Fahmy's release early on Friday morning comes a day after an Egyptian court granted bail to him and his colleague Baher Mohamed after they spent 411 days in prison.
A retrial was ordered by the country's Court of Cassation last month, overturning a lower court's verdict that had falsely found them guilty of helping the outlawed Muslim Brotherhood group.
"Bail is a small step in the right direction, and allows Baher and Mohamed to spend time with their families after 411 days apart," an Al Jazeera spokesman said on Thursday.
"The focus though is still on the court reaching the correct verdict at the next hearing by dismissing this absurd case and releasing both these fine journalists unconditionally."
Judge Hassan Farid said the next hearing would be on February 23.
A third Al Jazeera journalist, Peter Greste, who was also to be retried, was deported on February 1 under a presidential decree after spending 400 days in prison. He has since returned to his home in Australia.