More than 200 killed in Turkey mine blast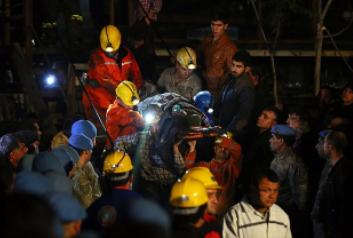 The coal mine fire in the west of Turkey has killed 205 miners and trapped hundreds underground, Energy Minister Taner Yildiz has said early on Wednesday, in what might become the biggest mining disaster in Turkish history.
A coal mine explosion and a fire in western Turkey that has so far killed more than 200 people is likely to be the country's deadliest mining disaster ever, Energy Minister Taner Yildiz said.
An explosion and fire in the district of Soma in Manisa province followed an electrical fault on Tuesday afternoon.
Yildiz said 363 miners out of 787 who work at the privately-owned mine have been accounted for, including those who died and the 80 people rescued with injuries – four of them in critical condition.
The explosion took place during a shift changeover, Yildiz already underscored, heightening concerns that the death toll may rise.
Dozens of miners have been pulled from the mine as a huge rescue operation is still continuing, AA correspondent on the scene reports.
An exact cause of the blast has yet to be officially announced. Yildiz said the deaths were due to carbon monoxide poisoning, as he ruled out any possibility of firedamp or methane gas explosion.
President Abdullah Gul has ordered the Manisa Governor's Office to use all means available to state officials to rescue the miners.
Prime Minister Erdogan, who has canceled a trip to Albania to pay a visit to the province, has offered condolences to the families of those who died.
Main opposition leader Kemal Kilicdaroglu has also canceled all his engagements to visit the area on Wednesday.
A huge crowd of relatives of the miners continue to wait outside the mine for good news on the rescue efforts. Another crowd of relatives flocked to the district's hospital to learn about the medical situation of the injured miners rescued.
A relative of an injured miner, Sema Korkmaz, said rescue teams were trying to reach her husband who had been working as a worker in the mine for eight years, but they failed. "We have not heard from him yet. One of his mate was rescued, who is at hospital."
Meanwhile, Turkish Red Crescent set up tents for the worried relatives of trapped miners.