Morsi's Eid message "Complete the Revolution"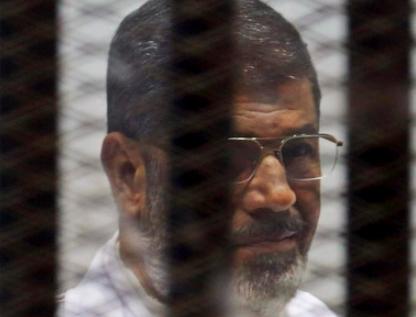 The official Facebook page and Twitter account of ousted democratically elected President Mohamed Morsi published a message Thursday evening calling on his supporters to continue "the revolution."
According to Ahram newspaper, the message was allegedly sent from prison where he is facing a death sentence.
"My strength and my determination have not weakened yet and my belief in victory is limitless," Morsi is reported to have said.
The ousted president was sentenced to death in July after being convicted on counts of murder and attempted murder in the 2011 prison escape case. He was also given a life sentence in a case related to charges of spying for Hamas, as well as 20 years in prison for allegedely inciting the violence outside the Ittihadiya presidential palace in December 2012.
"Your revolution is going to be studied by all the people of the world, so complete it, as it will free the nation," he added.
Mohamed Morsi concluded his message by referring to himself as the President of the Arab Republic of Egypt and congratulated the people on Eid Al-Fitr, the end of the holy month of Ramadan.
This is the third alleged message from Morsi since his imprisonment in 2014.