Muslim Aid wins International Charity Award at Charity Times Awards 2013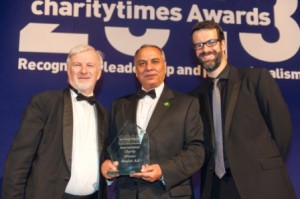 Muslim Aid won the International Charity Award at the Charity Times Awards ceremony and Gala Dinner held at a local hotel in London on 16 October 2013.
Judged by an independent panel of experts, Muslim Aid was initially shortlisted into the final six nominees before being announced as the winner on the night of the awards ceremony. Judges commented that Muslim Aid's work is "strategically balanced and highly effective in terms of their programme, activities and impact."
A spokesperson for Muslim Aid said: "We are delighted for Muslim Aid's work to be recognised at this prestigious awards ceremony. We would like to take this opportunity to specially thank our donors and supporters who have stood by Muslim Aid and invested in our work over the years to make it the success that it is today. We thank our Trustees, partners and field offices who have worked tirelessly to serve our beneficiaries on behalf of our donors. Our work would also not be possible without the involvement of our staff and volunteers, and we share this award with them. Muslim Aid will continue to develop, improve, and expand its work in the most efficient, innovative and cost effective manner."
Professor Alex Murdock, Head of the Centre for Government and Charity Management, presented the award to Muslim Aid representative Mohammed Walayat Khokhar (MBE) on the night.