N. Korea hit by worst drought in 100 years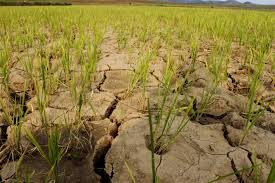 North Korea says it has been hit by its worst drought in a century, resulting in extensive damage to agriculture.
The official Korean Central News Agency said the drought has caused about 30 percent of its rice paddies to dry up. Rice plants normally need to be partially submerged in water during the early summer.
"Recently in our country, there has been a severe drought with sudden extremely high temperatures and nearly no rain," Ri Yong Nam, a senior N. Korean weather official, told The Associated Press on Wednesday. "Now the drought is causing a water shortage and great damage to agriculture, and we foresee this drought will continue for a while." He said temperatures in May were 5-7 degrees Celsius higher than normal.
Both North and South Kore have had unusually dry weather this year.
South Korea's Unification Ministry said precipitation in N. Korea was abnormally low in May, and food production could decline significantly if the shortage continues. However, a ministry official said he couldn't confirm N. Korea's claim that it was experiencing its worst drought in a century.
KCNA said South Hwanghae province was one of N. Korea's worst-hit areas. Farmers at Gangan Cooperative Farm in the province said they have been unable to grow rice seedlings.
"This is the first drought damage in my 20 years of farming experience," Sin Jong Choi, head of a work team at the farm, told AP. He said the seedlings dried out, so farmers plowed the fields again and planted corn instead.
But even the corn plants "are completely burned to death," said Bae Tae Il, the farm's chief engineer. "We are launching all-out efforts to overcome the drought damage."
In Pyongyang, the capital, the water level of the Taedong River was very low Wednesday.
The United Nations said in a report in April that about 70 percent of N. Korea's people face food insecurity, and more than a quarter of children under age of 5 experience chronic malnutrition.