Nawaz Sharif visits Iran amid tensions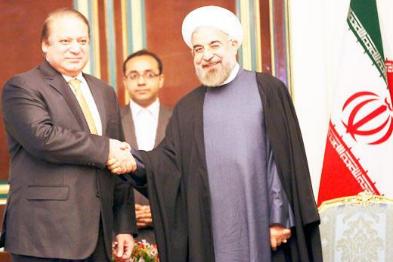 Pakistan Prime Minister Nawaz Sharif met Sunday with the Iranian president at the start of visit during which talks are likely to include border security and a stalled gas pipeline deal.
Sharif and Iranian President Hassan Rouhani met briefly for lunch, and are to hold more in depth talks on "bilateral issues and the expansion of economic cooperation," the official IRNA news agency reported. During his two-day visit Sharif, who is accompanied by senior advisors, is also expected to meet supreme leader Ayatollah Ali Khamenei, Iran's ultimate authority, media reported.
The visit comes amid tensions between the two neighbors following the kidnapping in February of five Iranian soldiers by extremists who took them across the border into Pakistan.
Tehran says the soldiers, four of whom returned home after being held for two months, were taken across the border into Pakistan, a claim Islamabad denies.
The fate of the fifth soldier is unknown. His abductors claim to have killed him but it is yet to be officially confirmed.
Ties between Islamabad and Tehran have also been strained following the announcement in February by the Sharif government that Pakistan was suspending work on a $7.5-billion pipeline for Iranian gas exports. The work on the Iranian side is almost complete and Tehran expects Pakistan to finish the project on its side.