Nepalese man claims to be world's shortest person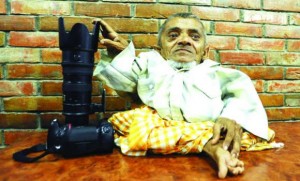 An elderly Nepalese man who is just 41 cm (16 inches) tall is stepping up his campaign to be recognized as the world's shortest person.
Master Nau, 73, who is confined to a wheelchair, recently flew from his remote village southwest of the capital Katmandu to press his request to be recognized in the Guinness World Records.
Wearing sunglasses and clutching his citizenship card, Nau was greeted at Katmandu airport by photographers and the media.
Now back home in Bhairahawa village, where he lives with his youngest brother's family, life has returned to normal.
"I am very happy," Nau told AFP in a barely audible voice over the phone on Monday.
Nau is staking his claim as the shortest person in an "immovable" category, which according to the Guinness World Records recognizes a person who cannot walk.
His rival, a Taiwanese man, who holds the current record in the category, stands 68 centimetres.
Officials from Guinness World Records have said Nau could qualify for the record, according to world record enthusiast Thaneshwar Guragain, who has taken up Nau's claim and is corresponding with the organization.
Nau's niece Seema Sheikh said he leads an active life.
"He is fond of traveling and likes to meet people and talk about life," Sheikh told AFP.
"He also likes hot and delicious food and loves to listen to Hindi and Nepali songs. We often hire a rickshaw to take him to the market because he loves it," she said.
"But whenever he goes out, people stop to look at him. Soon a small crowd would gather, which makes it difficult."
A fellow Nepalese man, Chandra Bahadur Dangi, 74, holds the current record for the world's shortest man in the "movable" category. He measures 54.6 centimetres tall.