New Year celebrations around the world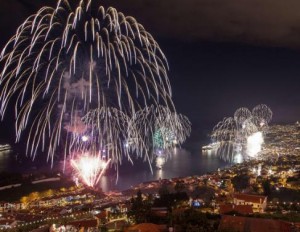 Sydney presented a spectacular fireworks show to kick off global new year celebrations Tuesday, the first in a wave of pyrotechnics to usher in 2014 from Hong Kong to world record-chasing Dubai.
Tons of explosives lit up Australia's harbor city with fireworks shooting off the Opera House for the first time in more than 10 years as part of the December 31 extravaganza, centered on the Sydney Harbor Bridge.
Sydney lord mayor Clover Moore said the Aus$6 million show ($5.4 million), themed "Shine", was expected to attract 1.6 million spectators to the city's harborfront, with thousands of visitors already camped out under blue skies early Tuesday to secure a front-row seat.
"We are ready to host the world's best New Year's Eve on the world's most beautiful harbor," Moore told reporters.
There were a record three fireworks displays at 9pm, 10.30pm and midnight, with Moore promising the spectacle – biodegradable and using recycled water — would be "bigger than ever."
German tourists Lena Winkels and Nine Doerr made certain of a prime waterfront position despite the queues.
"This was the last space in the first row so we were very lucky," she said after getting up at 4am so as not to miss out.
Dubai is challenging Sydney's claim to the best show on earth pledging a record-breaking explosion of more than 400,000 fireworks, the biggest the world has ever seen, stretching over 100 kilometers.
Dubai hopes to break the Guinness World Record for the largest firework display which will spread over the Gulf emirate's man-made islands and the Burj Khalifa, the world's tallest tower.
Neighboring Kuwait currently holds the mark, set in 2011 with an epic hour-long show of 77,282 fireworks.
Major spectaculars will also light up the Thames in London when Big Ben bongs midnight, Moscow's Red Square and Kremlin and Berlin's Brandenburg Gate.
In Rio de Janeiro, authorities are predicting 2.3 million people — a third of them tourists — will crowd Copacabana Beach for fireworks and pop music.
The theme will be romantic, said the city's tourism secretary, Antonio Pedro Figueira de Mello.
"At one moment of the musicalized fireworks, the music sort of falls, and there we have a kiss in Copacabana, we'll hear a 'smack', … we'll have 100 hearts exploding on Copacabana beach to toast for this reveillon of love," he said.
An expected one million revelers will gather in New York to mark the stroke of midnight and the traditional New Year's Eve ball-drop over Times Square.
Cape Town will have a free concert with lasers, fireworks and a special 3D tribute to Nelson Mandela who died on December 5.
Images from the anti-apartheid hero's life will be projected onto City Hall where he gave his first speech after his release from 27 years in prison in 1990.
Before that cities across Asia will hail the New Year with Hong Kong boasting the biggest-ever countdown show for the Chinese city.
Fireworks will be lit from the top of skyscrapers and a one-kilometer line of barges along Victoria Harbour in a "wish upon a star" tourism board show.
Seoul will ring in 2014 with a ritual clanging of the city's 15th-century bronze bell 33 times, reflecting the ancient practice of marking a new year.
In Singapore, people will flock to Marina Bay financial district for the fireworks while thousands of white spheres will be launched to bob on the water, each containing wishes for 2014 penned by residents.
The Taipei 101, once the world's tallest skyscraper, will stage the pyrotechnics in Taiwan's capital, kicking off with a laser beam from a 4.5-metre statue of Spiderman.
Jakarta has set up 12 city center stages for performances to showcase the vast archipelago's kaleidoscope of cultures.
However, 6,500 police will be out to ensure security in and around the Indonesian capital amid warnings that extremists in the Muslim-majority country may target the celebrations, prompting travel warnings from countries including neighboring Australia.
Tonga, located near the international dateline, will be one of the first nations to greet 2014. The deeply religious Pacific country is holding a week-long prayer festival that culminates with bamboo "cannons" fired into the air.
But not everyone will be celebrating.
Saudi Arabia's religious police warned against partying on New Year's Eve in the ultra-conservative Gulf kingdom.