Nine killed as train hits bus in Turkey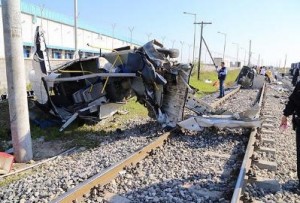 At least nine people were killed and five injured on Thursday when a train crashed into a bus carrying factory workers in Turkey's southern city of Mersin, local news agencies reported.
The minibus was carrying the workers to an industrial zone on the edge of the city when it was hit on a railway crossing by a commuter train travelling between Mersin and the neighbouring province of Adana.
Video footage on the Dogan News Agency website showed the crushed minibus on the side of the tracks and medics trying to reach the injured.
State broadcaster TRT said 10 people were killed.
In 2004, an express train derailed while travelling from Istanbul to the Turkish capital of Ankara, killing 36 people and injuring dozens in one of the country's worst rail disasters.