Nine killed in South Carolina church shooting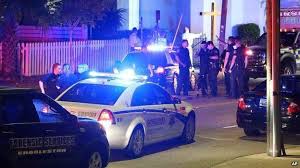 Nine people were killed after a gunman opened fire at a historic black church in downtown Charleston, South Carolina late Wednesday, police said.
The Charleston police department said shooting was a hate crime, AFP reported.
The suspect was a clean-shaven white man, aged about 21. As of midnight (0400 GMT), he was still at large, police added.
Local network ABC4 News earlier said police were also investigating a possible bomb threat.
"(My family) and I are praying for the victims and families touched by tonight's senseless tragedy at Emanuel AME Church," South Carolina Governor Nikki Haley said in a statement.
"While we do not yet know all of the details, we do know that we'll never understand what motivates anyone to enter one of our places of worship and take the life of another."
"It's really bad. It's a very bad scene," local pastor Thomas Dixon was quoted by CNN as saying.
"Apparently the person just entered the church and opened fire. That part has not been fully articulated on what happened yet … they are still looking for the suspect."
The shooting happened at the Emanuel African Methodist Episcopal Church. According to its website, it is the oldest such church in the U.S. south.