No Brexit deal without Ireland solution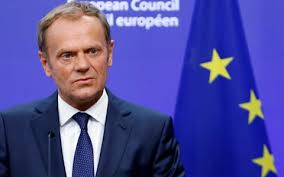 Britain must come up with a solution for the Irish border after Brexit or there will be no divorce deal or transition period, EU President Donald Tusk warned on Wednesday.
Former Polish premier Tusk said he wanted to "use the positive momentum" in recent negotiations to finally settle issues including Ireland.
"The UK's decision on Brexit has caused the problem, and the UK will have to help solve it," Tusk told the European Parliament in a report on a summit of EU leaders last month.
"Without a solution, there will be no withdrawal agreement and no transition."
At the summit EU leaders approved guidelines for a 21-month transition period after Brexit happens in March 2019, and for the next phase of talks.
But they also set a June deadline for progress on Ireland.
Britain says it is leaving the EU's single market and customs union, but the prospect of a "hard" border in Ireland has sparked fears for the fragile peace on the island.
The EU and Britain have agreed a "backstop" that Northern Ireland would remain part of the EU's customs union if there is no better idea — but London is deeply opposed to this actually happening.
Tusk admitted he was "furious" about Brexit during a visit to Dublin earlier this month to mark the 20th anniversary of the Good Friday agreement.
The European Parliament's Brexit coordinator Guy Verhofstadt meanwhile said MEPs would be vigilant about the rights of EU citizens after Brexit, following a growing row over threatened deportations of people who moved to Britain from the Caribbean in the 1950s and 1960s.
"We must avoid a post-Brexit bureaucratic nightmare for EU citizens. We need full guarantees in the light of the Windrush scandal," he said, adding that the parliament would discuss the matter with the British interior ministry next week.
British lawmakers have called for action over the "inhumane" treatment of members of the so-called Windrush generation, named after the ship that brought over the first group of West Indian immigrants in 1948.