Nobel prize-winning novelist Doris Lessing dies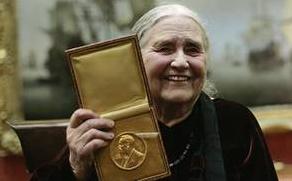 The Nobel Prize-winning novelist Doris Lessing, one of the most important English-language writers of the late 20th century, has died aged 94, her publisher said on Sunday.
Lessing tackled race, ideology, gender politics and the workings of the psyche in a prolific and often iconoclastic career, and won the Nobel Prize for Literature in 2007, only the 11th woman to do so.
She died peacefully at her London home in the early hours of the morning, publisher HarperCollins said in a statement.
"She was a wonderful writer with a fascinating and original mind; it was a privilege to work for her and we shall miss her immensely," her agent Jonathan Clowes said.
Born in what was then Persia, now Iran, on October 22, 1919, Lessing was raised in Southern Rhodesia, now Zimbabwe, and moved to Britain at the age of 30.