NYC public schools add two Muslim holidays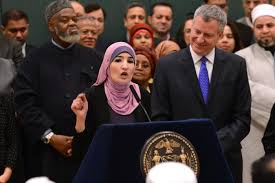 New York public schools will add two Muslim holidays to their vacation calendars, Mayor Bill de Blasio said Wednesday, a promise he made during his election campaign.
Two of the most sacred holidays in the Islamic calendar, Eid al-Fitr and Eid al-Adha, will be observed.
Eid al-Adha, or "Festival of Sacrifice," will be a vacation day on September 24, starting in the 2015-2016 school year.
The festival of breaking the fast, Eid al-Fitr, which falls over the summer in 2016, will be designated a holiday for summer school students.
The mayor said the move reflects New York's diversity, calling it a "common sense change."
"We made a pledge to families that we would change our school calendar to reflect the strength and diversity of our city," he said in a statement.
"Hundreds of thousands of Muslim families will no longer have to choose between honoring the most sacred days on their calendar or attending school."
New York public schools already give students the day off for some Jewish and Christian holidays.
Muslim children account for about 10 percent of New York's public school students.
It is not the first city to close for Muslim holidays — some districts in Vermont, Massachusetts and New Jersey already do.
Muslim community leaders in New York have appealed to close schools on holy days for several years.