NYC schools will get Islamic holidays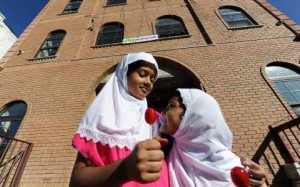 New York City Mayor Bill de Blasio announced plans to implement a policy that would close schools for Muslim holidays and the Chinese New Year. The two Muslim holidays include, Eid al-Fitr and Eid al-Adha.
The New York chapter of the Council on American-Islamic Relations (CAIR-NY) applauded NYC Mayor Bill de Blasio for plans to move forward in closing schools for the Muslim holidays, reported the Arap American News.
"The NYC Muslim community looks forward to finally having the Eid holidays recognized in our public schools. It will be gratifying to know that Muslim children will soon no longer have to choose between honoring and celebrating their faith or missing class. We applaud Mayor de Blasio on his plans to soon make this a reality," said CAIR-NY Executive Board Member Zead Ramadan.
During his election campaign in October, the mayor announced his promise to recognize Eid al-Fitr and Eid al-Adha, which take place at the end of the month-long fast of Ramadan and following the annual pilgrimage to Mecca respectively.
"The origins of this nation (are) people of many different faiths coming together … That's why we have to respect Muslim faiths by providing the Eid school holidays for children in our school system," said de Blasio.