Obama ready to launch air attacks on IS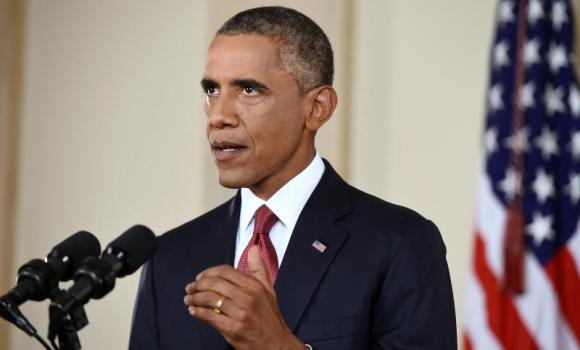 US President Barack Obama said Wednesday he is ready to launch air strikes on Islamic State forces in Syria, expanding the campaign already undertaken against the militants in Iraq.
"I have made it clear that we will hunt down terrorists who threaten our country, wherever they are. That means I will not hesitate to take action against ISIL in Syria, as well as Iraq," Obama said in a televised address.
"This is a core principle of my presidency: if you threaten America, you will find no safe haven."
He called on Congress to give him "additional authorities and resources to train and equip" the Syrian opposition, saying they were the "best counterweight" to IS fighters, who have seized wide swaths of territory in Iraq and Syria.
"In the fight against ISIL, we cannot rely on an Assad regime that terrorizes its people; a regime that will never regain the legitimacy it has lost," he said, referring to Syrian President Bashar Assad.
Obama said the US would lead a "broad coalition" to roll back the threat posed by IS, but insisted that US combat troops will not be sent to fight on foreign soil as part of the operation.