Obama's grandmother visits Makkah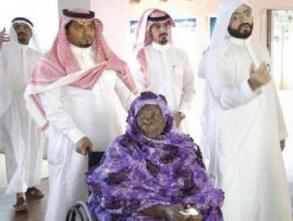 Paternal grandmother of U.S. President Barack Obama attended an exhibition detailing the life of the Prophet Mohammad at the end of a pilgrimage in the Saudi city of Makkah, local media reported Wednesday.
Sara Omar, who is in her 90s, arrived in Makkah – considered in Islam to be the holiest city – with her son and grandson Saeed and Mousa Obama.
Unlike the Hajj pilgrimage – a trip to the cities of Makkah and Madinah which every able-bodied Muslim is expected to undertake at least once in their lifetime – Umrah can be undertaken at any time of the year.
After finishing Umrah, Omar visited an exhibition about the life of the Prophet, commenting that it was a "good example" of what she called the moderate teachings of Islam.
"I am very happy to visit this exhibition, which is a good example for the propagation of Islam in a modern way, supported by scientific and authentic documents," local daily Arab News quoted her as saying.
The Arabic-language Akhbar meanwhile said Obama's grandmother cried during her visit to the exhibition.
Obama is a Christian whose religious views developed in his adult life but his father is of Muslim heritage from Kenya. Obama said both his American mother and Kenyan father were not devout.