OIC backs plan to limit Hajis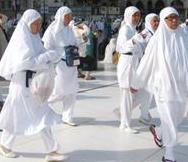 The 56-member Organization of Islamic Cooperation has backed Saudi Arabia's decision to cut the number of foreign pilgrims by 20 percent during this Haj season, saying it was essential to ensure the safety and security of the guests of God.
"This is a temporary decision that was taken as a result of the ongoing expansion work at the Grand Mosque in Makkah and holy sites," said OIC Secretary-General Ekmeleddin Ihsanoglu and urged OIC countries to cooperate with the Saudi government.
He said the expansion projects at the Haram Mosque, especially for mataf (the circumambulation area around the Kaaba), are aimed at enhancing facilities for the growing number of pilgrims who come for Haj and Umrah. "While supporting the measures taken by Saudi Arabia, we call upon OIC countries to cooperate with the Kingdom in carrying out appropriate measures it has adopted for the purpose," the secretary-general said.
The cut in pilgrims will be in line with quotas set for each member country and Muslim communities during a meeting of the OIC foreign ministers in Amman in March 1988, Ihsanoglu said.
The quota is fixed at the rate of 1,000 for every one million.
Mohammad Tayeb, director general of the Foreign Ministry's office in the Makkah region, told Arab News that the Saudi government has already informed foreign countries through it missions to cut the number of pilgrims.
The Omani Ministry of Endowments and Religious Affairs said it has received the message.
"As a result, Oman will be sending 11,200 pilgrims, instead of 14,000, for Haj this year," the ministry said.
The capacity of mataf has been reduced from 48,000 to 22,000 per hour because of the ongoing work.
"We understand that the mataf will not be able to hold more pilgrims during this Haj season," the ministry said.