OIC FMs' Conference begins in Dhaka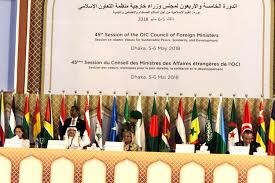 A two-day conference of the OIC Council of Foreign Ministers begins in Dhaka on Saturday. The theme of the meeting is "Islamic Values for Sustainable Peace, Solidarity and Development". The Ministers will focus on the issue of the Rohingya Muslim minority.
Canadian Foreign Minister Chrystia Freeland and Secretary General of OIC Yousef A Othaimeen attended the function as special guests
On the occasion, chair of the 44th CFM and Foreign Minister of C"te d'Ivoire Marcel Amon-Tanoh handed over the chairmanship of 45th CFM to Bangladesh Foreign Minister Abul Hassan Mahmood Ali.
Deputy Prime Minister of Turkey and representative of OIC Summit chair Bekir Bozdag also addressed the function while Vice Minister of Indonesia on foreign affairs Abdurrahman Mohammad Fachir, Foreign Minister of Saudi Arabia Adel bin Ahmed Al-Jubeir and Foreign Minister of Senegal Sidiki Kaba spoke on the occasion respectively from Asia, Arab and Africa groups.
Prime Minister Sheikh Hasina gave five suggestions so that Islamic countries unitedly can protect their values, wealth and civilization.
Firstly, she said, Islamic countries must keep trust in basic Islamic faith, banish sectarian mindset and stop using religion as a tool for divisive purposes or narrow political ends.
Secondly, OIC countries should resolve all conflicts peacefully and solve all issues politically without giving any scope of interference and intervention to detractors.
Thirdly, OIC countries should live an enlightened life of self-awareness in appropriate with modern society without compromising their fundamental faith to stamp out Islamophobia.
"We should foster value based international relations to show the way to an enlightened global order," she added.
Fourthly, she said, OIC countries should pursue a fast track development course to eliminate poverty and hunger and address humanitarian exigencies and collective actions to implement the OIC-2025 Programme of Action.
"Finally, we should constantly seek inspiration and strength from the eternal values of Islam – peace, moderation, fraternity, equality, justice and compassion," the premier said.