Over 100 bodies found in Ganga river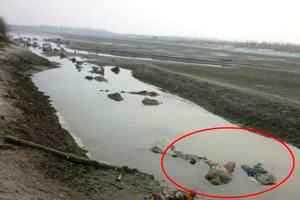 The Uttar Pradesh government Wednesday ordered a probe after over 100 bodies were found in a channel of the Ganga in Unnao district, an official said.
Thirty bodies were recovered from the river's channel till late Tuesday but by Wednesday morning the number swelled up to 104.
Director General of Police (DGP) A.K. Gupta has sought a detailed report after recovery of the bodies in the Ganga, near the Periyaar Ghat, where bodies are generally cremated.
Kanpur Inspector General of Police Ashutosh Pandey said the bodies belonged to the families who could not afford a decent cremation and dumped them in the river.
Gupta, however, has reportedly asked police to probe all angles before arriving at a conclusion.
The district administration used JCB machines to fish out the decomposed bodies from the river bed and the encatchment areas, a step protested by residents and the Bharatiya Janata Party (BJP).
BJP state president Laxmikant Bajpayi, who visited the site where the bodies have been found, rang up senior officials at night and protested the "inhumane treatment" being meted out to the dead.
Officials told IANS that all bodies will be cremated as per tradition by the district administration Wednesday.
Meanwhile, volunteers of the Ganga Bachao Andolan (Save Ganga Movement) led by Ramji Tripathi began a sit-in to protest dumping of the dead in the Ganga, which they said, was polluting the river.
The recovery of bodies from the Ganga has caused furore among residents as these were found a day before Makar Sankranti festival when thousands take a holy dip in the river.