Over 100,000 turn up at Erdogan rally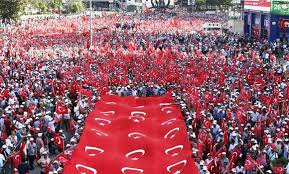 More than 100,000 people — many waving Turkish flags — attended an "anti-terrorism" rally in Istanbul Sunday, AFP reporters estimated, as President Recep Tayyip Erdogan presses a major offensive against Kurdish rebels.
The huge crowd thronged Yenikapi Square on the shores of the Marmara Sea for the demonstration, which was to culminate with an address by Erdogan.
On Thursday, thousands took part in a similar rally in the capital Ankara to denounce the Kurdistan Workers' Party (PKK), which has killed dozens of police and soldiers in a string of attacks in the mainly Kurdish southeast since the collapse of a two-year cease-fire in July.
Many of the demonstrators wore red headbands that eulogized the slain security force members as "martyrs."
"Martyrs never die, the homeland cannot be divided," the headbands read.
No political emblems were visible among the sea of red Turkish flags in Istanbul but many of the demonstrators expressed fervent support for Erdogan's Justice and Development Party (AKP).
"We will support Erdogan to the end. We are behind him because he defends our flag and our nation," Gunel Yildiz, a 43-year-old textile industry worker, who carried a giant Turkish flag, told AFP.
"Believe me the terrorists won't return to Parliament," Alev Akmurat, a 22-year-old student said. "The AKP will regain power, God willing," he added.