Pakistan heatwave toll rises to 782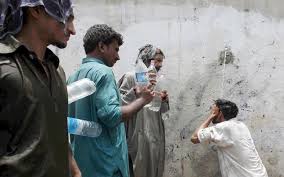 Over 780 people have died due to heatwave in Pakistan over the last three days, media reported on Wednesday.
Karachi city in Sindh province reported the highest 744 deaths, while 38 deaths were reported from other regions of the province, reported the Dawn.
Prolonged power cuts added to the woes of the people.
Sindh Health Secretary Saeed Ahmed Mangnejo said although heatstroke patients were still being admitted to hospitals in Karachi, their number was coming down gradually.
"Awareness is rising about the danger of sunstroke and people are taking precautionary measures," he added.
The maximum temperature in Karachi on Tuesday was 41 degrees Celsius and the humidity was 45 per cent.