Palestinian flag raised at UN for first time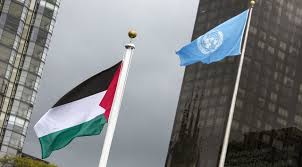 The Palestinian flag was raised for the first time at the UN headquarters in New York on Wednesday.
The green, black, red and white colored flag was raised during a formal ceremony following Palestinian Authority President Mahmoud Abbas' address to the UN General Assembly.
Abbas said it was an "historical moment in the struggle of the Palestinian people towards freedom and independence".
"Raise the flag of Palestine very high. Because it is the symbol of our identity", he said.
The ceremony was also attended by Turkish Prime Minister Ahmet Davutoglu, UN Secretary-General Ban Ki-moon and French Foreign Minister Laurent Fabius, among others.
The General Assembly adopted a Palestinian-sponsored resolution Sept. 10 permitting non-member observer states to raise their flags at the world body's headquarters alongside those of member states.
The symbolic move came as Palestinians step up efforts for international recognition of their statehood, despite fierce opposition from Israel and its allies.
The state of Palestine and the Holy See are the only non-member observer states at the UN.
Speaking at the ceremony, the UN chief said the event "reflects the commitment of the Palestinian Authority to pursue the long-held dream of the Palestinian people for their own state.
"It also symbolizes the longstanding commitment of the United Nations to support Palestinian aspirations," Ban said, adding however that the ceremony does not represent the end-goal of a two-state solution with Palestinians and Israelis living side-by-side.
During his address to the General Assembly, Turkish PM Davutoglu said that hoisting the Palestinian flag is a "significant step toward enabling the parties to stand at an equal footing at the table, for a healthy negotiation process that leads to an equitable and sustainable peace".
Meanwhile, Turkey's President Recep Tayyip Erdogan welcomed the development in a telephone call to Abbas. He told the Palestinian leader that the ceremony made him emotional and that Turkey will continue to support Palestine, according to sources close to Erdogan.
The flag was raised in front of the UN secretariat building at the northeast side of First Avenue and 42nd Street, alongside the flag of the Vatican.