Palestinians celebrate as Gaza ceasefire takes effect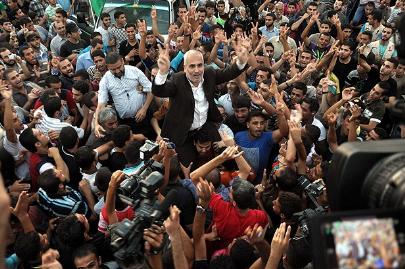 A ceasefire agreement between Israel and the Palestinians aimed at ending their seven-week conflict in Gaza went into effect on Tuesday and joyous Palestinians streamed into the streets of the battered enclave to celebrate.
Hundreds of Palestinians taking refugee inside the Shifaa hospital in the Gaza City fired firecrackers in celebration,  while others were seen distributing sweets.
An Egyptian-brokered ceasefire went into effect on Tuesday, bringing to a halt 51 days of relentless Israeli attacks on the blockaded coastal enclave.
Palestinian resistance factions, including Hamas and Islamic Jihad, have called on Gaza residents to go out into the streets to celebrate their "victory".
Egyptian Foreign Minister Sameh Shoukry said the deal called for the opening of all border crossings between the Gaza Strip and Israel, which would effectively signal the end of Israel's years-long embargo of the coastal enclave.
Under a second stage of the truce that would begin a month later, Israel and the Palestinians would discuss the construction of a Gaza sea port and Israel's release of Hamas prisoners in the occupied West Bank, possibly in a trade for body parts of two Israeli soldiers believed held by Hamas, the officials said.