Palestinians look forward to returning home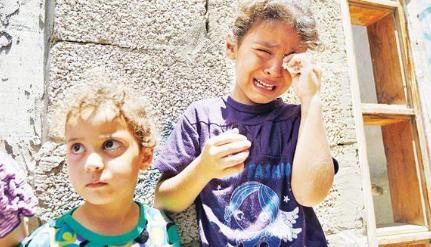 Mariam Mayma, a Palestinian resident in her 70s who migrated to the Kingdom with her husband 50 years ago, watches the news with tears in her eyes as images of destruction and devastation in Beit Lahya, Gaza flash on the screen.
Mariam's relatives lived in the ghost town up until a few days ago.
She could still make out the four-story building, once home to 40 family members, from among the mangled ruins.
The television footage reminded her of the mayhem she had witnessed as a child in the town of Majdal, now part of Ashkelon, when Zionist terrorists attacked the area in 1948.
Mariam is among an estimated 1 million Palestinian refugees living in the Kingdom.
Only television channels and social media outlets have shown these Palestinians the true and uncensored version of what is happening to their old homes and families, particularly during the most recent Israeli onslaught on the tiny strip.
"Despite the devastation wrought of Gaza, this war has brought with it unprecedented international attention to the daily misery of Palestinians living under Israeli occupation," Ahmed Al-Hanafi, a Palestinian refugee living in the Kingdom, told Arab News.
"The horrors of the blockade, including poverty, hunger, unemployment and, above all, the closure of every outlet to the outside world, has finally come to the fore."
The bombings also evoked fading memories about Zionist massacres in Deir Yassin and Sabra and Shatila and the consequent creation of an identity crisis among displaced youth, who feel so at home in their countries of refuge, all the while knowing they don't really belong.
"The attack on Gaza evoked every nostalgic sentiment we have ever experienced while in exile. The heroic resistance has rekindled our hope at returning home one day, even though Israel has designed this war with the aim of wiping out an entire population," said Faiza Labad, another refugee living in the Kingdom.
She added that refugees look forward to a secure life among other Palestinians with the support of human rights organizations and Muslim countries across the world.
"We do not want the core issues of occupation, displacement and resistance to be muddled with the Hamas-Muslim Brotherhood issue," she said.