Plane crashes in Laos, 49 on board believed dead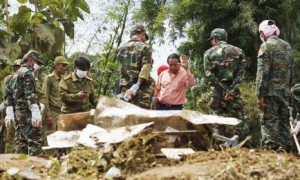 A plane from Laos' state-run airline crashed in bad weather in the Southeast Asian nation, apparently killing 49 people from 11 countries, the government said.
The Lao government said it was dispatching rescuers to the scene of Wednesday's crash, but the Australian government said it was told no survivors were expected.
The Ministry of Public Works and Transport, which operates Lao Airlines, said 44 passengers and five crew members were on Flight QV301 from the capital, Vientiane, to Pakse in the country's south. Earlier reports had 39 passengers.
"Upon preparing to land at Pakse Airport the aircraft ran into extreme bad weather conditions and was reportedly crashed into the Mekong River," the ministry said in a statement.