Britain to introduce plastic banknotes from 2016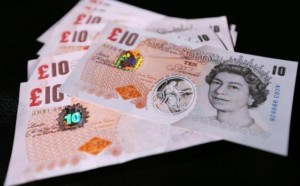 British banknotes will get a tough new makeover from 2016 when plastic replaces the traditional paper, enabling them to survive accidental spins in the washing machine, the Bank of England said.
Britain will be the largest economy so far to adopt the more durable polymer material for general banknotes, after 87 percent of respondents approved the change in a public consultation.
The move will bring estimated savings of 100 million pounds ($162 million) over a decade. It will begin with five-pound notes in 2016 at the earliest, with 10-pound notes arriving the following year.
Polymer notes were first adopted by Australia in 1988 and are now in use in more than 20 countries including Canada, the homeland of new BoE governor Mark Carney.