PM asks Saudi investors: Come to Bangladesh with business, technology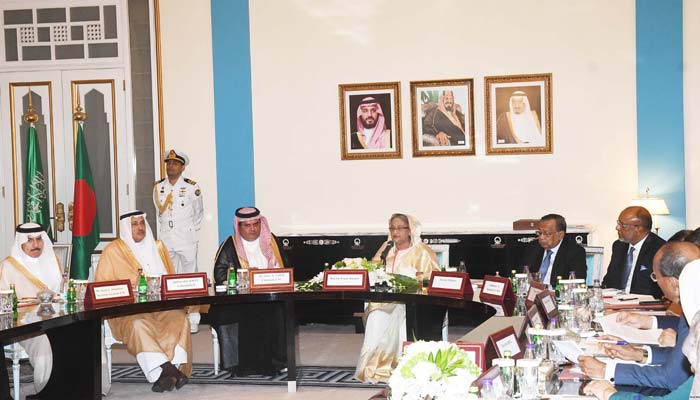 Prime Minister Sheikh Hasina today invited the Saudi entrepreneurs to come to Bangladesh with business and technology for mutual benefits as well as shared profit and prosperity, assuring them of her government's full support and cooperation in this regard.
"I invite you to come to Bangladesh with your business, technology, and innovations for mutual benefit…we can join hands in our journey of shared profit and prosperity," she told a meeting with the leaders of the Council of Saudi Chamber (CSC) and the Riyadh Chamber of Commerce at King Saud Guest Palace here.
"I assure you of my government's full support and cooperation to this end," she added.
The prime minister arrived here on Tuesday evening on a four-day official visit to Saudi Arabia at the invitation of Saudi King and Custodian of Two Holy Mosques Salman bin Abdulaziz Al Saud.
Sheikh Hasina said Bangladesh welcomes Saudi entrepreneurs to invest in its emerging sectors like capital market, power, energy, telecommunications and IT, petrochemicals, pharmaceuticals, shipbuilding and agro-processing.
"We also welcome you to invest in light engineering, blue economy, research and development and technology innovation, water and marine and other infrastructure projects, and services sectors like banking and finance, logistics, and human resource development," she said.
The premier mentioned that Bangladesh has the most liberal investment policy in South Asia with most attractive incentives, returning highest profit rate.
"It includes protection of FDI (foreign direct investment) by Law, incentives like generous tax holiday, concessionary duty on import of machinery, duty free import of raw materials, remittances on royalty, 100 percent foreign equity, unrestricted exit policy, and full repatriation of dividend and capital on exit," she said
Other advantages, she said, include the young, committed and an easily trainable workforce with highly competitive wages, cheaper cost of setting business, and access to a large duty free, quota free market that includes EU, Australia, Canada, India, Japan and New Zealand.
Sheikh Hasina said Bangladesh has also low cost electricity and water, good credit rating, minimum risk factors, and fast technology adaptability. "All these combined together, Bangladesh gives the maximum return and dividend to the investors," she said.
The premier said Bangladesh's strategic location is making the country an emerging hub for regional connectivity, foreign investments and global outsourcing.
"We've eight fully operational 'Export Processing Zones' (EPZs) exclusively for 100 percent export oriented industries. In addition, we are developing 100 Economic Zones to ensure resilient and sustainable industrialisation for new industries and investment at both public and private sectors," she said.
Sheikh Hasina said the government wants to connect and transform those by introducing smart, next-generation logistic networks so that these zones become part of dynamic global supply chains. "Two dozen hi-tech parks are in place also," she said.
The prime minister said her government is implementing 10 growth and employment generating mega projects and is ready to take up more in diversified areas of infrastructure, connectivity and hi-tech, tourism, health and education for a sustainable double digit growth.
"We've earmarked 2,000 acres of land in one of the Exclusive Economic Zones for Saudi Arabian investors, which can be developed and operated as per the investors' own requirements," she said.
Sheikh Hasina said Bangladesh and Saudi Arabia have been enjoying excellent bilateral relation, which is based on common faith, culture, values and aspirations. "Trade relations between Bangladesh and Saudi Arabia dates back to the seventh century when Arab traders first set foot in the port city of Chittagong."
She said both countries have reached increasing level of bilateral trade in recent years crossing the US$ 1 billion mark in 2017-18 fiscal. "But, we are far behind in exploiting full potential of trade and investment opportunities," she added.
The premier said Saudi investment to Bangladesh now stands at US$ 5 billion in 25 projects and it primarily focuses on the areas of agro-based industry, food and processed food, textiles and garments, leather, petro-chemical, engineering and service sector products.
In March 2018, she said, the UN declared Bangladesh eligible for graduation from LDC group to a developing country.
Sheikh Hasina said the government is implementing its Vision-2021 since 2009 to materialise the dream of Father of the Nation Bangabandhu Sheikh Mujibur Rahman.
"Using graduation as stepping stone, we are now working on the Vision-2021 of becoming a developing country and Vision-2041 of becoming a developed country," she said.
The prime minister said Bangladesh is now the 32nd largest economy in the world in terms of purchasing power parity. "Poverty rate has fallen to 21.8 percent in 2018 from 41.5 percent in 2006 and last year, our economy was among the top 10 fastest-growing economies of the world."
Despite the global economic turmoil, she said, Bangladesh maintained a sustained GDP growth over 7 percent during last 10 years reaching 7.86 percent this year. "We are expecting to reach 8.25 percent GDP growth next year," she said.
The prime minister said at the same time, inflation has decreased to 5.4 percent and foreign currency reserve has grown more than 9 times since 2008-2009, up to US$ 33 billion in 2018.
Sheikh Hasina said technology and innovation are bringing fast economic transformation in Bangladesh. "Currently, Bangladesh is the second largest RMG exporter in the world market exporting products worth of US$ 30.651 billion in last fiscal year," she said.
Having gained self-sufficiency, she said, Bangladesh is now the 3rd largest producer of vegetables, 4th largest producer of rice and 3rd largest producer of inland fisheries in the world.
The premier said the pharmaceutical industry is one of the vibrant sectors in Bangladesh, which is currently meeting 98 percent of local demand and exporting to about 125 countries.
Sheikh Hasina said shipbuilding is another area that is flourishing in Bangladesh. "We're exporting medium-size oceangoing vessels to a number of European countries."
Talking about her government's vision of materialising 'Digital Bangladesh', she said the underlying premise of this vision is to promote people's wellbeing.
"Widespread introduction of internet-based public service delivery has led to growth in job creation at the grassroots level," she said.
The premier said power generation capacity has gone over 20,000 megawatts from 3,200 megawatts in 2009. "We are building coal-based super-critical power generation plants to ensure sustainable power supply," she said.
Sheikh Hasina said about 90 percent of the country's population has come under electricity coverage. "With the launch of the work on the Rooppur Nuclear Power Plant, we've moved a step ahead in the peaceful use of nuclear energy," she said.
CSC chairman Dr Sami A Alabadi, its Secretary General Dr Saud A Almashari and Saudi Ambassador to Bangladesh Abdullah H M Al-Mutairi also spoke on the occasion.
The Bangladesh delegation included Bangladesh Foreign Minister AH Mahmood Ali, PM's Private Sector Development Affairs Adviser Salman F Rahman, Chairman of Bangladesh Investment Development Authority Kazi Md Aminul Islam, Foreign Secretary Md Shahidul Haque, Bangladesh Ambassador to the KSA Golam Moshi.
Acting FBCCI President Sheikh Fazle Fahim, BGMEA President Siddiqur Rahman and other business leaders from Bangladesh also attended the meeting. -BSS