Pregnant Muslim woman verbally abused on London bus (Video)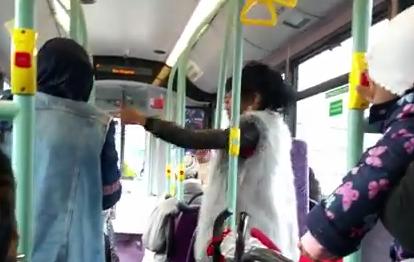 A shocking video has emerged of a pregnant Muslim woman being verbally abused on a London bus.
The woman – as well as several other Muslim women on the bus – are called "ISIS bitches." The pregnant woman is also called a "dirty whore" and told to go back to where she came from.
The women – who appear to be Arab and are all wearing hijab – are also accused of having the same husband and living in the same house with all their children.
The woman who hurls the abuse is then heard threatening to kick the pregnant Muslim woman in the stomach. Later the Muslim woman attempts to stop her abuser from filming and is then threatened that she will be punched in the head if she does that again.
A few minutes into the incident – which is believed to have happened yesterday – the bus driver intervenes and urges the woman to relax.
There is no context in the video of what led up to the argument.
https://youtube.com/watch?v=0QqT1Q4_hGc