Presidential candidate dies in Brazil jet crash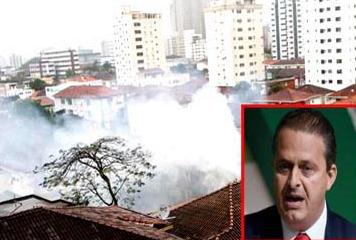 Brazilian presidential candidate Eduardo Campos, a contender to unseat President Dilma Rousseff in October, died Wednesday when his jet crashed into a residential area, media network Globo said.
Campos, a socialist who has been running third in the polls, was on board a jet that crashed into a gym and houses in the city of Santos, breaking into pieces and sparking a large fire, Globo reported.
All seven people aboard the plane died, the Brazilian air force told the online and television news network.
The plane was en route from Rio de Janeiro's Santos Dumont airport to Guaruja airport outside Sao Paulo when it hit bad weather, according to aviation authority spokesman Pedro Luis Farcic.
"As it was preparing to land, the plane fell due to bad weather. Air traffic control then lost contact with the aircraft," he said.