Prince Charles hails head of Egypt's al-Azhar over religious moderation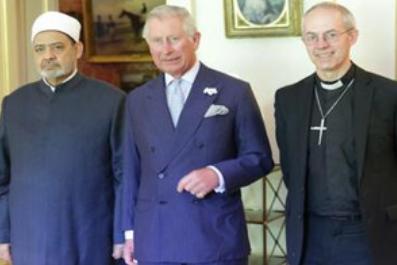 Sheikh Ahmed El-Tayyeb, the head of al-Azhar, one of the most prestigious centers of Sunni Islam learning,  met with Britain's Prince Charles and the head of the Anglican Church on Thursday in a campaign to promote dialogue, acceptance and tolerance between the two faiths, MENA news agency reported.Prince Charles praised the Grand Imam's prominence and moderation as a religious leader on the international level.
The heir to the British throne also expressed gratitude for the role being played in fighting the threat of religious extremism, while acknowledging their clarification of the real image of Islam as a religion of tolerance and peace, said the state news agency.
The relationship between Al-Azhar and the Church of England was established in 2002 to promote dialogue between the two faiths, according to the Archbishop of Canterbury's official website.