Prince Harry looking for work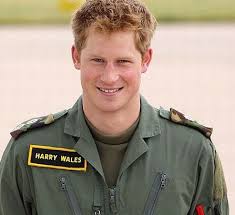 Prince Harry is looking for work — but don't expect him to be sending out invitations to connect on LinkedIn.
No one is likely to keep the fourth in line for the British throne waiting for a job interview, or to grill him about his background — even though he's been caught smoking pot and photographed playing "strip billiards" in Las Vegas.
And if it takes him a while to find the right position, the family fortune should tide him over until his first payday.
Royal officials said Tuesday that the 30-year old prince will leave the armed forces in June. Kensington Palace said he will volunteer with a program that helps wounded service members "while actively considering other longer-term employment opportunities."
In the meantime, Harry's final army duties will include a four-week assignment in April and May with the Australian Defense Force. The prince will spend time in Darwin, Perth and Sydney and attend centenary commemorations of the World War I Gallipoli campaign in Turkey.
Harry said leaving the army after a decade of service, which included two tours of duty in Afghanistan, has been "a really tough decision" but that he is excited about the future.
"The experiences I have had over the last 10 years will stay with me for the rest of my life," Harry said in a statement. "For that I will always be hugely grateful."
Harry graduated from Sandhurst officers' academy in 2006 and joined the Household Cavalry as an armored reconnaissance troop leader. He served in Afghanistan as a battlefield air controller for 10 weeks in 2007-08 until a media leak cut his tour short.
Keen to return to the front lines despite fears he would be a top Taleban target, Harry retrained as a helicopter pilot and served in Afghanistan in 2012-13 as an Apache co-pilot gunner.