Prince Talal, brother of Saudi king Salman, passes away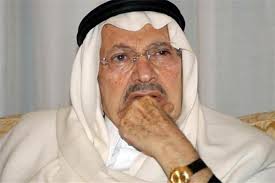 Saudi Arabia's Prince Talal Bin Abdul Aziz, brother of King Salman Bin Abdul Aziz and father of billionaire investor Al Waleed Bin Talal, passed away Saturday, family members and Saudi media said on twitter posts.
The 87-year-old senior member of the royal family had been ill for several years. He lived in exile abroad in the 1960s but later returned to Saudi Arabia.
The news of his passing was confirmed by his son Prince Abdul Aziz Bin Talal on Twitter. He said that family members are accepting condolences from Sunday until Tuesday after sunset prayers until evening prayers.
Prince Talal was made minister of communications when the office was established in 1952. King Saud Bin Abdul Aziz appointed Prince Talal as minister of finance and national economy in 1960.
One of his wives was Mona Al Solh, the daughter of Riad Al Solh, the first prime minister of Lebanon. Prince Al Waleed is one of the couple's three children.
Prince Talal was known for his philantrophic activities; he provided Saudi students foreign education scholarships and founded the kingdom's first school for vocational training in 1954 and the first girls' school based in Riyadh in 1957.