Princess Reema: Saudi Arabia's first female ambassador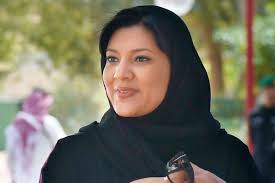 A Saudi royal decree by Crown Prince Mohammed bin Salman, in his role as the King's deputy, was issued on Saturday appointing Princess Reema bint Bandar bin Sultan al-Saud as the Saudi Arabian ambassador to the United States with a ministerial ranking, making her the Kingdom's first female ambassador.
Princess Reema is the daughter of Prince Bandar bin Sultan, who also served as Saudi Arabia's Ambassador to the US from 1983 to 2005. Prince Bandar was previously the Secretary General of Saudi Arabia's National Security Council and he also served as Director General of the General Intelligence Presidency. The move was hailed by many as a great step for the Kingdom, including Saudi Arabia's Ambassador to Russia, Dr. Rayed Krimly.
"The first female Saudi ambassador is the right woman in the right place. She is the best person to represent the aspirations and liveliness of our youthful vision in Washington," Ambassador Krimly told Al Arabiya English.
"She is the granddaughter of Prince Sultan and King Faisal, and her father is Prince Bandar and her uncle Prince Saud; a princess who has known Washington since her childhood, and works passionately and actively to serve her King and country. She is keen in all her posts to include development and vision for all segments of our society, not just the elite. May God prolong her success always," he added.
Princess Reema's grandfather, Prince Sultan bin Abdulaziz, served as the Saudi defense minister and was the Kingdom's Crown Prince until his death in 2011. Her maternal grandfather was former Saudi King Faisal bin Abdulaziz, whose son is Prince Saud al-Faisal, the former Minister of Foreign Affairs of Saudi Arabia.