Qantas launch first non-stop flight from Australia to London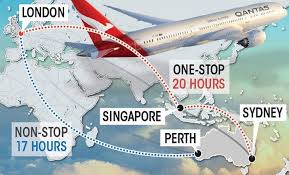 Qantas on Saturday launched the first non-stop passenger service linking Australia and Europe, with a Boeing 787 Dreamliner departing Perth for London on one of the longest flights in the world.
The service makes Qantas one among a handful of airlines that operate on such long-distance intercontinental routes.
The historic flight, carrying more than 200 passengers and 16 crew, departed from Perth at 18:49 local time on Saturday.
The new Perth-London flight is around three hours faster than other routes that involve stops in the Middle East to change planes or refuel.
The flight is the world's second-longest after Qatar Airways' route from Doha to Auckland, which spans 14,529km, according to the International Air Transport Association.
Here are some of the world's longest flights:
Auckland to Doha – 17 hr 40 min
Qatar Airways Flight 921 is currently the longest commercial journey in the world, flying passengers over 14,500 km (9,000 miles) from New Zealand to Qatar in nearly 18 hours on Boeing 777 airliners.
Perth to London – 17 hr 20 min
The new Qantas service is the first regular link between Australia and Europe, with the airline's Boeing 787 planes connecting Perth and London in just over 17 hours. The 14,500-km route is part of the airline's ambitious plans to eventually connect Europe with airports on Australia's eastern seaboard as new, more efficient aircraft become available.
Auckland to Dubai – 17 hr 20 min
Auckland is also the origin of Emirates Airline Flight 449, with Airbus A380 superjumbos travelling 14,200 km in 17 and a half hours to Dubai.
Los Angeles to Singapore – 17 hr 20 min
United Airlines launched its service connecting Los Angeles' LAX airport to Singapore using 787s last year, saying the 14,100-km link would be the longest non-stop flight — in terms of distance — from the United States to anywhere in the world.
Houston to Sydney – 17 hr 30 min
United's 787s also connect Houston in the southern US to Australia, crossing 13,800 km in around 17 and a half hours.
Singapore to New York – 19 hr
The longest flights operating today pale in comparison with Singapore Airlines Flight 22. The carrier flew Airbus A340 airliners from the city- state to New York's Newark airport — a journey of over 15,000 kilometres — from 2004 to 2013, when the service was suspended to cut costs. But the airline plans to restart flights on the route, using the ultra-long range version of the Airbus A350.