Ramadan's second Friday prayer at al-Aqsa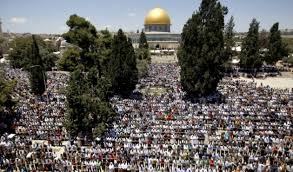 Around 350,000 Muslims prayed the second Friday prayers of the holy month of Ramadan at al-Aqsa Mosque.
Worshipers from Jerusalem and the West Bank started flocking to al-Aqsa Mosque from dawn. Hundreds of Israeli police officers were spread out across the entrances and exits.
Palestinian men from the West Bank at least 40 years old and women from the West Bank were allowed to enter Jerusalem without permits, according to the Israeli police's spokesperson.
After the prayers ended, hundreds of worshipers protested in solidarity with Khader Adnan, who has been on hunger strike for 52 days in Israeli prison.
For Muslims, Al-Aqsa represents the world's third holiest mosque.