Red Juma mosque opens after 90 years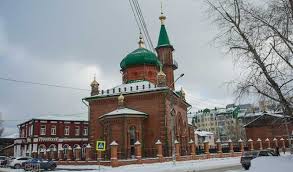 The Red Juma Mosque, located in the Tomsk region of Russia has opened for worship once again after 90 years.
The mosque has been returned back to the delight of the Muslim population in an official ceremony.
Tomsk Governor Sergey Jvachkin, Mayor Ivan Kleyin, Chechen Republic Parliament Speaker Dukuvah Adurakhmanov, and Chechen Republic Mutfi Salah Haci Meciev officiated the ceremony which was also attended by numerous representatives of the Islamic community as well as hundreds of Muslims that were part of the congregation.
The guests were greeted at the entrance to the mosque by Russias Asia Representative Mufti Seyh Nfigullah Asirov and Tomsk Regional Mufti and Red Juma Mosque Imam Nizomutdin Jumaev.
Tomsk Regioal Imam Ozotmutdin Umayev opened the ceremony with a recitation from the Quran and and Sheikh Nafigullah Ahsyrov gave a speech, thanking the attendees.
Governor Jvachkin thanked the Tomsk community for assisting with the renovations and also thanked the Chechen Republic leader Ramzan Kadirov. The Russian Governor pointed out how the restoration of the mosque beautified the entire city.
After the ceremony, Sheikh Asirov lead the Friday congregational prayer with the attendees.