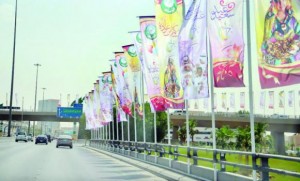 Riyadh is gearing up for the Eid Al-Fitr with special decorations and lights on city roads and main intersections to mark the annual festival with grandeur.
The Riyadh municipality, in collaboration with a number of official and nonofficial bodies, have lined up a series of programs to entertain at various public places such as malls, parks and shopping centers.
Main roads in the city, including King Fahd Road and Khurais Road, have been festooned with colorful flags with Eid Al-Fitr greetings, while many roads have been decorated with colorful lights to mark the annual festival.
With the Eid holiday starting from Friday, citizens and expatriates were seen in a festive mood as they prepare to mark the special occasion with religious fervor and traditional gaiety. The city's malls were full of shoppers trying to complete their Eid preparations with many families seen with children buying clothes.
The toy souk in Batha is full of Saudi women purchasing various toys to be given as gifts to children who visit their homes to offer Eid greetings on the festival day.
There is also an increase in the activity in perfume shops where men and women are buying perfumes for their family members.
To give a festive religious atmosphere, mosques are being illuminated and new carpets laid to give a new look to the places of worship. An imam of a mosque in Nasseriyah told Arab News that new carpets are usually provided by the department of mosques of Ministry of Islamic Affairs, Dawah, Guidance, and Endowments. However some philanthropists living in the neighborhood of the mosques volunteered to donate new carpets to mosques that need replacement. "Some of them came forward to color wash the whole buildings before the advent of the holy month," he said.
There are more than 3,000 mosques in the Riyadh region and the majority of them are owned and maintained by the Ministry of Islamic Affairs, Dawah, Guidance and Endowments. The others are built and maintained by members of the Royal family and prominent philanthropists who had built and maintained them in memory of their loved ones.
Meanwhile, due to the days of Lailathal Qadr, there is a larger congregation in the mosques for daily Taraweeh and Qiyam Al-Layl prayers. The areas around mosques are turned into markets by vendors who try to sell fancy items and fruits to worshippers.
All parts of the city are heavily policed to maintain security in the area, and in neighborhoods where people leave their homes, either to shop or pray in the mosque until 2 a.m.