Saree, shawl of matchbox size as gift for Obamas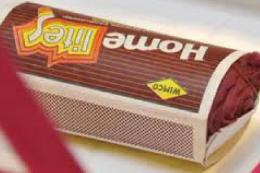 A 27 year-old powerloom weaver, who earned a reputation for his fine weaving skills, is all set to add another feather in his cap by weaving a silk saree and shawl that could fit in matchboxes to be presented to US President Barack Obama and First Lady Michelle.
Nalla Vijay, who worked on the powerloom for 15 days to weave the special shawl and saree, met Union Minister for Labour Bandaru Dattatreya in Hyderabad on Saturday and handed over the gifts, to be presented to the Obama couple by Indian Prime Minister Narendra Modi.
The handloom weaver has made a superfine silk Saree for Michelle Obama. He also made a silk shawl for the US President. And what's more, they can be folded to fit inside a matchbox.
The saree weighs around 60 gms and is four and half metres long, the weight of the shawl is 30 grams and is two metres long.