Saudi Arabia opens Haramain high speed rail
The 450km Haramain High-Speed railway, which cost $16bn, will link Mecca and Medina via the Red Sea city of Jeddah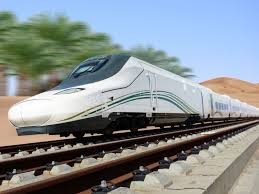 Saudi Arabia became the latest country to launch high speed services on September 25, when the Haramain High Speed Rail line linking Makkah, Jeddah and Madinah was formally inaugurated by King Salman bin Abdulaziz Al Saud. The ceremony in Jeddah was also attended by the three regional governors and Transport Minister Dr Nabil bin Mohammed Al-Amoudi.
The formal opening of the line had been timed to coincide with the country's 88th National Day on September 23. Speaking at the inauguration, the King, who is Custodian of the Two Holy Mosques, said 'we have put our trust in Allah, and we ask Allah to grant success.' Following the ceremony, he boarded one of the Talgo-built trainsets for a trip to Madinah.
The 453 km line with five stations has been developed in line with the country's 2030 national plan. Designed for a maximum speed of 320 km/h, it is intended to carry up to 60 million passengers/year to and from the holy cities. 'The journey between Makkah and Madinah has become closer and easier than ever before', said Al-Amoudi.
Civil works have been undertaken by Chinese and Saudi Arabian contractors, with railway systems supplied by the Spanish-led Al-Shoula consortium under a €6·7bn concession. This included the supply of 36 Talgo 350 trainsets as well as track and electrification; operations are being managed by RENFE and ADIF for the first 12 years.
Revenue services are due to begin on October 1, following the publication of fares on September 18. Operations are expected to start with a few trains each day, limited to 200 km/h, but would gradually ramp up in both speed and frequency, with a full service of 300 km/h trains anticipated by September 2019.